Boys Only Movie Night: Monsters, Inc.
---
This year for our annual Boys Only Movie Night we threw a Monster Party! Before settling down to watch Monsters, Inc., we had tons of fun activities for our little dudes!
We started the evening off by making Monster Identification Badges, playing Simon Says, getting to know each other, and general boy-like rowdiness. Then Madison was able to get everyone's attention with a Mystery Box.
Each boy took turns reaching inside the box, feeling around, and trying to identify what was inside. The first box held a bowl of slimy, wet, spaghetti noodles. Most reactions were somewhere along the lines of, "Eeeeeewwww……Awesome!"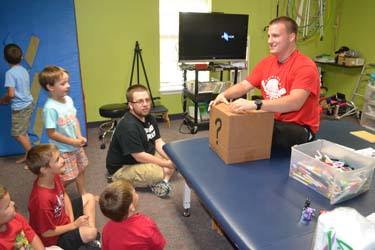 The next bowl was filled with packing peanuts mixed with dish soap. This created a really bizarre tactile sensation that felt like lumpy shaving cream. This one was a little harder to guess, but they really enjoyed the way it felt.
The last bowl was filled with Orbeez beads. These are always a hit and any kid that had been here for therapy knew what they were from experience. These make a great tactile sensory break!
After taking a break to devour some nachos with chili and cheese, we started on our craft project. These fun monster masterpieces were made by blowing watered down paint with straws to make a fun, splattery, blob.
Then we add googly eyes, arms, legs, etc. to really bring the monster to life. Check out Andrew's awesome blue monster!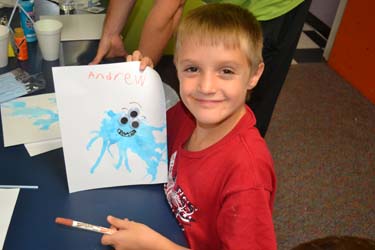 And Josh made his into an Ent from Lord of the Rings!
And Gabe was having a great time just being silly…
After craft time we had another monster challenge…. a monster pinata!
Gabe and Eric got in a few good hits and Madison remained uninjured. (He was holding the pinata and controlling its up and down movement with the rope at an uncomfortably close range.)
John-Wesley and Evan watched on from a safe distance.
Riley was the one who finally defeated the monster, spilling tons of candy goodness.
Here he is, loot in hand, Riley Sumrall, Monster Slayer!
Eric immediately made the monster carcass into an awesome battle helmet! Or a wizard's hat maybe….
Time to start the show! Maybe giving them a ton of sugar before trying to get them to settle in to watch the movie wasn't the best idea after all….
And popcorn, can't have a proper movie night without the popcorn!
All in all, we had a great time and we are very thankful for all of our staff who helped out and all the kids who came and hung out with us. Next up…. Girls Only Movie Night later this month!
Copyright © 2023 Melanie Massey Physical Therapy