Something Wicked This Way Comes!
---
Everyone knows we love holidays around here, and Halloween is one of our absolute faves! We started getting the decorations up in September.
We found a very appropriate sign to put on Mel's office.
We love our spiders and spiderwebs and let them take over the lobby and the hallways.
And some of our OT kids made the cutest pumpkin projects and to hang in the hallway!
And what Halloween would be complete without tons of treats? We made up lots of goodie bags to give out to our patients and we brought a lot of treat baskets to some of our friends in the community.
We love any excuse to whip up a super cute gift basket! We had all kinds of little bags that were picked up here and there and that we gave the ol' MMPT treatment, adding ribbons, tags, and lots of yummy treats.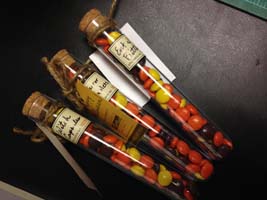 We especially loved these awesome test tubes we filled with "Terror Tablets", "Zombie Antidote", and "Witch Capsules." They looked so cute in the baskets with assorted Melanie Massey Physical Therapy pens and koozies and such.
Don't worry! There will be an entire post dedicated to our Halloween costumes coming soon!
Copyright © 2023 Melanie Massey Physical Therapy