Pediatric Occupational Therapy
---
What is Pediatric Occupational Therapy (OT)?
Pediatric Occupational Therapy (OT) uses play, which is a child's natural occupation, to restore or develop necessary skills and independence so that children can function in their home, school, and community. Fun and functional activities are utilized throughout treatment sessions to facilitate appropriate responses from the child and improve their abilities. Each child will receive a thorough evaluation by an occupational therapist. Based on this evaluation a specialized plan of care will be created for the child's specific needs, which will then be carried out by either an occupational therapist or occupational therapy assistant. Children from 0-18 years old are seen through pediatric occupational therapy.
When should I be concerned about my child?
Since occupational therapy covers a wide variety of skills and a large age range, there could be several indicators that your child could benefit from services. If you have concerns you should talk to your pediatrician. You can also always bring your child in for a free screening! Your child does not necessarily have to have a specific medical diagnosis to be in need of occupational therapy services.
---
Some areas that Occuaptional Therapy can address are:
Sensory Integration

Visual
Gustatory
Auditory
Tactile
Olfactory

Fine Motor Skills

Pencil grasp
Pre-writing
Handwriting
Manipulation of fasteners for dressing
Self-feeding with feeding utensils such as spoon, fork, etc.

Visual Perceptual Skills

Letter reversals
Number reversals
Visual figure ground
Visual-spatial relationships
Reading
Visual discrimination
Visual sequential-memory
Visual closure
Visual form constancy

Cognitive Skills

Problem-solving
Organizational skills
Attention
Interaction with peers and adults
Motor planning

Sequential Memory skills

Auditory sequential memory
Visual sequential memory

Activities of Daily Living Skills (ADLs)

Dressing
Toileting
Self-feeding
Grooming/hygiene

Instrumental of Activities of Daily Living Skills (IADLs)
Eye-hand Coordination Skills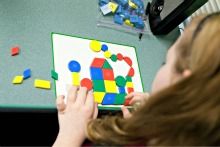 What do I need to get my child an evaluation scheduled?
The first step for an evaluation is to get a signed prescription from your child's doctor requesting an evaluation and treatment for occupational therapy. You can then call one of our facilities of your choice in which you will provide child's information, parent information, and insurance information to be scheduled for an evaluation. Click here to see if we are in network with your insurance.
Copyright © 2023 Melanie Massey Physical Therapy