Patient Spotlight: Dylan Brown
---
Dylan Brown has been a patient at Melanie Massey Physical Therapy since November of 2011. A victim of an accidental gunshot wound to the head at age 19, Dylan has come a long way in his recovery.
The blast injury caused a sinus stroke leaving Dylan paralyzed on his right side. It also caused Dylan to lose memory and his eyesight. He has been confined to a wheel chair and requires constant care and assistance with the most basic human needs.
Dylan works hard alongside his therapy team at our West Monroe clinic four hours a day, three days a week focusing on strength training, balance, and exercises to help him become independent. His attitude is always positive and he can be heard joking, laughing, and singing songs down the halls with the staff (particularly Keith and Madison.)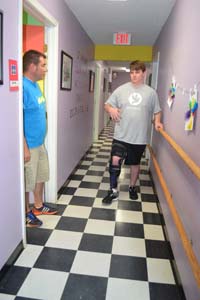 At the beginning of this year, Dylan set a goal that he would be wheelchair free by the end of June. Although in recent months there have been some additional obstacles he has had to face, he has beaten his goal by almost 6 weeks! Dylan is completely wheelchair free, able to independently move around his house and even walking into church.
His journey to recovery is yet to be finished, but he has made a huge accomplishment. Now his sights are set on working towards being able to be more independent, and hopefully regaining his eyesight.
Dylan's commitment is an inspiration and we are so proud of all of his hard work!
For more of Dylan's story and information on Batting for Dylan, a benefit softball tournament to help with some of his medical expenses, please visit the Batting for Dylan Facebook page.
Keith and Dylan's Theme Song:
---
Copyright © 2023 Melanie Massey Physical Therapy