Happy birthday to Patchez, Hannah, Beverly, Michelle, Donna, and Danielle! Birthdays are usually a pretty big deal here, and for these lovely ladies it was certainly no exception. Since all of these wonderful girls had birthdays that fell really close together, we decided to mix it up a little and had one big bash for everyone.
Here's the guests of honor. (Danielle was unable to ride in from Shreveport, but we added her into the pic since we know she was there in spirit!)
As you probably know, Melanie is Mrs. Craftastic Extraordinaire, and we were able to scrape together enough beads and other fixins from her personal stash to make some really great looking stuff.
Those of us who were more experienced with jewelry design were more than happy to help the "newbies" with their wire bending and construction. It was easy to get a little overwhelmed by all the options!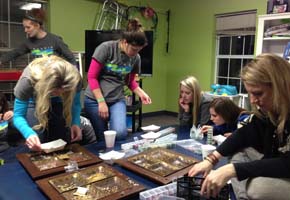 Two things we really love around here are being creative and working together. This night was no exception. Everyone was helping each other pick out the perfect combination of beads, sharing tools, and teaching each other tricks.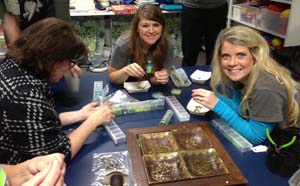 It's not often that the girls from all the clinics get together, so of course there was a fair amount of cutting up and conversation, but we still managed to make quite a bit of cute jewelry! Here's Patchez and Jessi showing off their creations.
Everyone ended up with two pairs of earrings and a necklace. Not to mention a great evening of hanging out! Thanks to all you MMPT chicks for coming and for all that you do!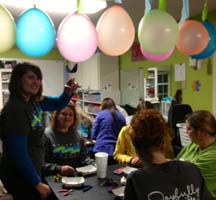 Copyright © 2023 Melanie Massey Physical Therapy