Dirt and Worms Snack:
Slimy mushy pudding, crunchy cookie bits, creamy whipped topping, and a couple of chewy gummi worms make this yummy confection a feast of different tastes and textures. Plus it's super fun to eat!
Try these activities too:
Hands On Sensory Gumbo:
1 large mixing bowl filled with warm soapy water
bird seed
Fruit Loops or Cheerios
marshmallow cream
white glue
Pour the bird seed, cereal, and marshmallow cream into the bowl and then squirt the glue over the top of it. Have the child close his or her eyes and reach into the bowl describing what they feel and identifying the objects inside. This provides an icky but safe sensory overload to help get used to uncomfortable textures. Experiment adding other textures and objects you may have at home. Hands only, do not eat!
Slimy Worm Fishing Challenge:
Put water and gummy worms in a large shallow pan and have children fish them out with their hands. They will be super slimy and gross, a great challenge for tactile processing!
Try these activities as well:
More Information Coming Soon!
M&M Painting:
This is a great painting activity without fear of any kind of toxins that could harm your kids. First, have the child separate all of the M&M's by color into containers. Then add just enough water into the bowl or cup to just cover the candies. Stir until it becomes a great watercolor consistency. Then go wild and artistic!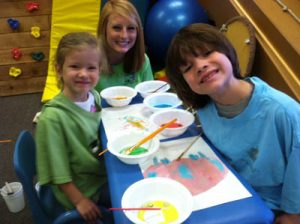 Copyright © 2023 Melanie Massey Physical Therapy