Do you have difficulty walking more than a short distance because of shortness of breath? Do you feel "weak" all the time? Do you have poor balance?
At Melanie Massey Physical Therapy, we believe in performing a detailed, thorough evaluation in order to address any functional impairments you may have. This evaluation will include strength testing, balance testing, an analysis of your walking pattern, and endurance testing. Our team will incorporate the most current research into their practice to help you reach your functional goals.
Our physical therapists can work with your cardiovascular or pulmonary rehabilitation team to help improve:
Your breathing during physical activity
Your overall strength
Your balance
Your quality of life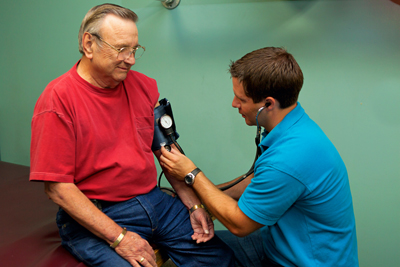 "My breathing with everyday activities has improved considerably, and my lower back doesn't hurt nearly as much as it used to with walking and moving around. And I have more stamina throughout each day now."
– Jimmy Chapman, patient
Your physical therapist will serve as an important member of your health care team and will work closely with you to design a program that takes into account your goals for treatment, helping you to continue to do your roles in the home, at work, and in the community.
You may have muscle weakness, decreased endurance, or poor balance from a variety of conditions such as:
COPDCongestive Heart FailureEmphysemaCoronary Artery DiseaseAsthmaAfter Coronary Artery Bypass Graft SurgeryPeripheral Arterial DiseasePulmonary rehabilitation, including exercise training for at least 4 weeks, has been shown to improve shortness of breath, quality of life, and strategies for coping with Chronic Obstructive Pulmonary Disease (COPD).
The physical therapists at Melanie Massey Physical Therapy are committed to open communication with your physician. Our therapists' primary concern is to meet the doctor's expectations and optimize the patient's functional outcome. Your physician will be consistently informed of your progress and any difficulties or concerns regarding your status.
Please call us if you have any questions about our Cardiopulmonary Rehabilitation program. We look forward to serving you!
Copyright © 2023 Melanie Massey Physical Therapy