Boys Only Movie Night: Part Two
---
After cooling off with the refreshing snow cones we were ready for food! In true manly fashion we dug into nachos and frito pies. Deeee-lish!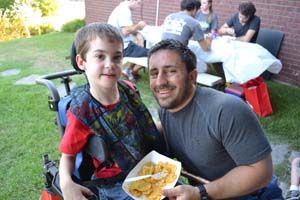 Fortunately, we had a lot of our therapists and techs out to help with the festivities so we thought we better feed them too.
Time for more playing outside! We built a sand pit just in time to have a fossil dig! The boys enjoyed getting dirty and looking for more dinosaurs.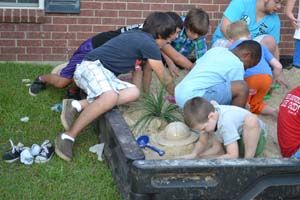 Have we mentioned that MMPT has the cutest kids ever?
Finally, after much sweating and general boy-ness, it was time to go inside and watch "A Night at the Museum." It smelled just like the real theater with our awesome new popcorn machine. And Kief did a great job adding lots of butter.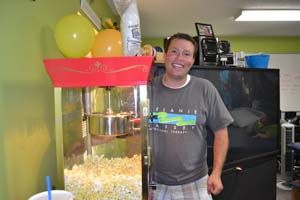 Everyone picked a comfy spot and it was time to start the show!
That one bit with the dinosaur skeleton is kinda scary, but ultimately everything turns out ok in the end.
Boys Only Movie Night 2012 was a success! Thanks to all the little guys (and bigger guys too) who make our lives such a joy. And don't worry girls, we have something planned for you just around the corner!
Copyright © 2023 Melanie Massey Physical Therapy